The Latest from Jus
Transcendent Cover and Blurb Reveal
Today is the day!
Take a peek at the cover and blurb for Transcendent, the fourth and final book in the Denazen series, releasing March 2nd
The boy she'd lost, and finally found again, is not the same boy she remembers. As one of the most powerful Sixes, Kale has changed in ways Dez can't ignore.
He swore he'd never kill, and now he's out for blood.
He swore he'd never harm her, and now he struggles to control his fatal touch.
They've been to hell and back, over and over, but this time they might not survive the fire.
When the truth at the root of the Denazen Corporation's origins begins to unfold, those behind the scenes will do anything to keep it hidden.
Dez and Kale will be pushed to their breaking point. As long buried secrets come to light, they must fight for their freedom—and each other—as they never have before.
Kale's destructive power could win the battle, if he doesn't lose himself to it in the process. Or Dez will be faced with an impossible task—saving the world from the boy she loves.
Isn't it stunning? The entire series has been recovered and I can't wait to share, but for now, we can drool over this one! Tell me, which cover do you prefer? The original or the new?
I loved the original, but the new one is just SO damn pretty…
Add to your Goodreads TBR
Denazen Update
A few months ago, things started moving forward with the fourth Denazen book. I didn't want to say anything at the time because we've had several false starts and I hate disappointing everyone. Publishing can move painfully slow, and there are a million tiny wheels that all have to sync up. For a while, that just wasn't happening.
Now though, I can officially announce…
It Is Happening!
Yesterday afternoon I received edits for the book, and am currently diving back into the world of Dez and Kale. Like, I'm looking at the book on my other screen right now and it is beautiful!
Transcendent (there's always a chance the title may change!) is set to come out early next year. I've been given an official release date, but because these things can fluctuate, I'm not going to share it just yet.  As we get closer, I'll tell you. But, I think I can safely say to plan for around February. (That's right around the corner!!!)
I'll try to be more present on social media and promise to keep everyone updated going forward. I know I've been spotty on twitter, but I needed a break. Sometimes things get toxic and you just have to remove yourself and take a breath, ya know? But, I'm back and looking forward to reconnecting with everyone! If you've got instagram, I'm always active over there (mainly in the stories). Pop over and say hello!
I've said it time and time again—this book is the whipped cream and cherry on the series. My absolute favorite of them all! I cannot wait to share it with everyone.
If anyone has any questions (ANY QUESTIONS AT ALL) please ask. I want to be as transparent as possible. Thank you to everyone who hung in there with me. I can't tell you how much it means, and how excited I am to be able to give Dez and Kale the ending they deserve.
That update you've all been waiting for…and some other cool stuff
The book, which is currently titled Transcendent, will bring Dez and Kale's story to a close. It will answer all those burning questions about Dez's parentage, how Sixes came to be–and the original question–how WAS Dez able to touch Kale in the first place? I've been sitting on this for a while and I can't tell you how excited I am to finally be able to share this book with you! There were some obstacles in the way and I want to thank each and every one of you for hanging in there with me. It was long and it was frustrating, but I promise it will be worth the wait!
The book is off to my editor and is set to release Fall 2018. Keep those peepers peeled because we'll be doing some really cool things revolving around the series (giveaways, swapped POV extras, ect) leading up to release!
While this is the last book in Dez and Kale's story, I have it on good authority that we haven't heard the last from the Sixes.
In other news, I have a couple other books releasing with Entangled Publishing in 2018. The first is a shifter (wolves) romance for their Crave line (Spring?). This was a blast to work. It focuses on a spunky girl named Kensey and her bad boy neighbor, Slade. Alpha, the third book in the Infinity Division series will also release in 2018 and will bring that series to a close. (Summer).
Save
Save
On My World Contest
One of the best parts of writing the Infinity Division series was the infinite number of possibilities I had to work with. I love animals–so there was a world overrun with critters. I love chocolate–so there was a world full of chocolatey goodness. I love—you see where I'm going with this? I had the opportunity to plop the gang into pretty much any circumstance. Harsh worlds, quirky worlds, worlds made entirely of butter…
Okay. No butter.
So to celebrate the release of Omega, the second book in the  series, I'm doing a super fun giveaway!
The gang gets to see all kinds of things as they skip from world to world. New animals, weird food, unfamiliar customs… But since there are an infinite number of worlds out there, they're obviously missing out on some pretty cool things. That's where you guys come in.
Each day I'll post a new prompt on social media (Be sure to follow me: Twitter, facebook, Instagram) To enter, you simply have to snap and post a picture pertaining to the day's prompt and BE SURE to include the hashtags #onmyworld and #Omega. You can enter with two pictures a day and will get an entry for each form of social media you use. Post to twitter and Instagram? Two entries. If you miss a day, feel free to play catch up the next! The winner will be picked from the hashtags on Sunday August 13th.
Monday's prompt is FOOD. Show us what the food is like on your world–and remember to include the hashtags #onmyworld and #Omega hashtags!
(no hashtags, no entries 🙁 )
Tuesday's prompt is wildlife. Show us some of the critters on your world!
Wednesday's prompt is the scene. Show us what a typical day looks like on your world!
Thursday's prompt is free-for-all weird. Show us something strange on your world!
Friday's prompt is customs. Show us a custom from your world!
Saturday's prompt is free for all! Show us anything from your world!
What will I win, you ask?
Well, something that every world skipping traveler needs…
A Skip Survival Basket!
Lots of yummy goodies (Mixed nuts, Twizzlers, Pixie Stix, M&Ms–Noah would be lost without these)
A pair of Skullcandy earbuds (for those worlds where listening to your tunes isn't legal)
Candle (appropriately scented cranberry–one of Noah's faves)
A Contigo travel mug (for when you want to take your newfound fave beverage to the next world)
Nail Polish (purple, of course)
A pair of comfy leggings, perfect for skipping from place to place, or for snuggling in with your favorite read (LuLaRoe leggings, OS or TC, depending on winner's choice)
**Leggings pictured are the OS**
**US and Canada only**
Save
Save
Save
Save
Save
Save
Save
Save
Save
Save
Save
Save
Save
Release Day: Omega (Infinity Division #2)
It feels like just yesterday that Infinity was released into the world. Not counting novellas, Omega is my eleventh book. Eleven books and each release day feels the same. I'm super excited, but also just a tiny bit nervous. 
I hope you all enjoy reading this one as much as I did writing it!
One mistake can change everything. Ashlyn Calvert finds that out the hard way when a bad decision leads to the death of her best friend, Noah Anderson.
Only Noah isn't really gone. Thanks to his parents' company, the Infinity Division, there is a version of him skipping from one dimension to another, set on revenge for the death of his sister, Kori. When a chance encounter brings him face-to-face with Ash, he's determined to resist the magnetic pull he's felt for her time and time again. Because falling for Ash puts his mission in danger.
But there's more going on in Ash's alternate universe than either of them knows: a mysterious project called Omega. A conspiracy spanning multiple Earths and revolving around none other than Ash. Its creators would do anything to keep Omega secret…
Anything.
Amazon * Barnes and Noble * BAM * iTunes * Indie Bound * Kobo * Powells
Save
Save
Save
Save
Omega Cover Reveal
The cover for Infinity was amazing. I didn't think Entangled could top it. The colors, the simplicity–it was all perfect. Then I got a peek at the cover for Omega…
Omega is set to release on August first THIS YEAR! I cannot wait to share this one. As some of you know, I'm just a tad crazy about Noah, one of the MCs of Omega. He was one of my favorite parts of Infinity. Fierce and complicated in all the best ways. I hope everyone enjoys spending time with him as much as I did.
One mistake can change everything. Ashlyn Calvert finds that out the hard way when a bad decision leads to the death of her best friend, Noah Anderson.
Only Noah isn't really gone. Thanks to his parents' company, the Infinity Division, there is a version of him skipping from one dimension to another, set on revenge for the death of his sister, Kori. When a chance encounter brings him face-to-face with Ash, he's determined to resist the magnetic pull he's felt for her time and time again. Because falling for Ash puts his mission—and their lives—in danger.
Website | Twitter | Facebook | Pinterest | Goodreads' Author Page | Entangled Publishing Page
Save
Save
INFINITY trailer
First, a huge thanks to everyone who has read and reviewed Infinity. You guys are awesome and I wish I could hug you all! I know people have been asking for the release date for the next book, but I don't have one yet. I imagine it will be sometime at the end of next year though. Book two will focus on Noah and… *whistles* someone else… 😉 Don't worry though. Cade and Kori will be right there with him and we will continue to see all the characters and their relationships bloom (or, in some cases, blow up).
Now for the fun stuff!
Guess what I get to share today? 😉
I love it! A huge thank you to Entangled Publishing for the awesome trailer <3
Want to Know More?

Find Me Online:
Twitter | Facebook | Pinterest | Goodreads' Author Page | Entangled Publishing Page
Release day for Infinity (plus #TeaserTuesday)
Today is the day! Infinity has been released into the world, and I'm feeling all the usual release day emotions.
ExcitedScaredWorriedGiddyTerrified…
Mostly though, I'm super happy. Infinity came to life during one of the hardest points in my life, so to see it out there, to hold a copy in my hands, is pretty freaking amazing. How about a Tuesday Teaser? 😉
You can follow all the Infinity Blog Tour stops and enter the release giveaway by checking out the schedule here
Two families. One Device. Infinite possibilities…

There are three things Kori Anderson knows for sure
One: Her army general father is way too overprotective
Two: The guy he sent to watch her, Cade, is way too hot
Three: Everything she knows about her life is a lie
Now for the three things she doesn't know
One: There's a device that allows people to jump to other dimensions
Two: Cade has a lethal secret
Three: Someone wants her dead

Find Me Online:
Twitter | Facebook | Pinterest | Goodreads' Author Page | Entangled Publishing Page
Infinity Cover Reveal (and giveaway)
I had some technical difficulties yesterday, so this is a day late. But, for those of you that didn't see it on twitter, I've got the cover and blurb for the first book in my new YA sci-fi series!
I have 9+ books with Entangled Publishing, and they've always blown me away when it comes to their covers. But this bad boy? I love it so hard—for so many reasons.
Infinity is a story of possibilities. Of hope. To me, Hope is something so simple—yet incredibly potent. When I first saw the cover, I thought, this is perfection. Simple, yet powerful. To me, it was meaningful.
Almost exactly a month before Infinity sold, my mother was diagnosed with stage 4 cancer. Treatment was rough, and very, very long, but she is currently cancer free and doing well. I remember one of her nurses had a tattoo. An intricate infinity symbol done almost like the staff of Asclepius. Underneath, it said, "Infinite hope." It became our thing. Infinite hope. We'd joke about finding the infinity symbol in everyday objects. Like Kori, the main character in the book, just seeing that symbol lifted our spirits. It gave us hope. I like to think that this was the Universe's round about way of telling us to keep on fighting.
I'm so excited to share this book with you guys!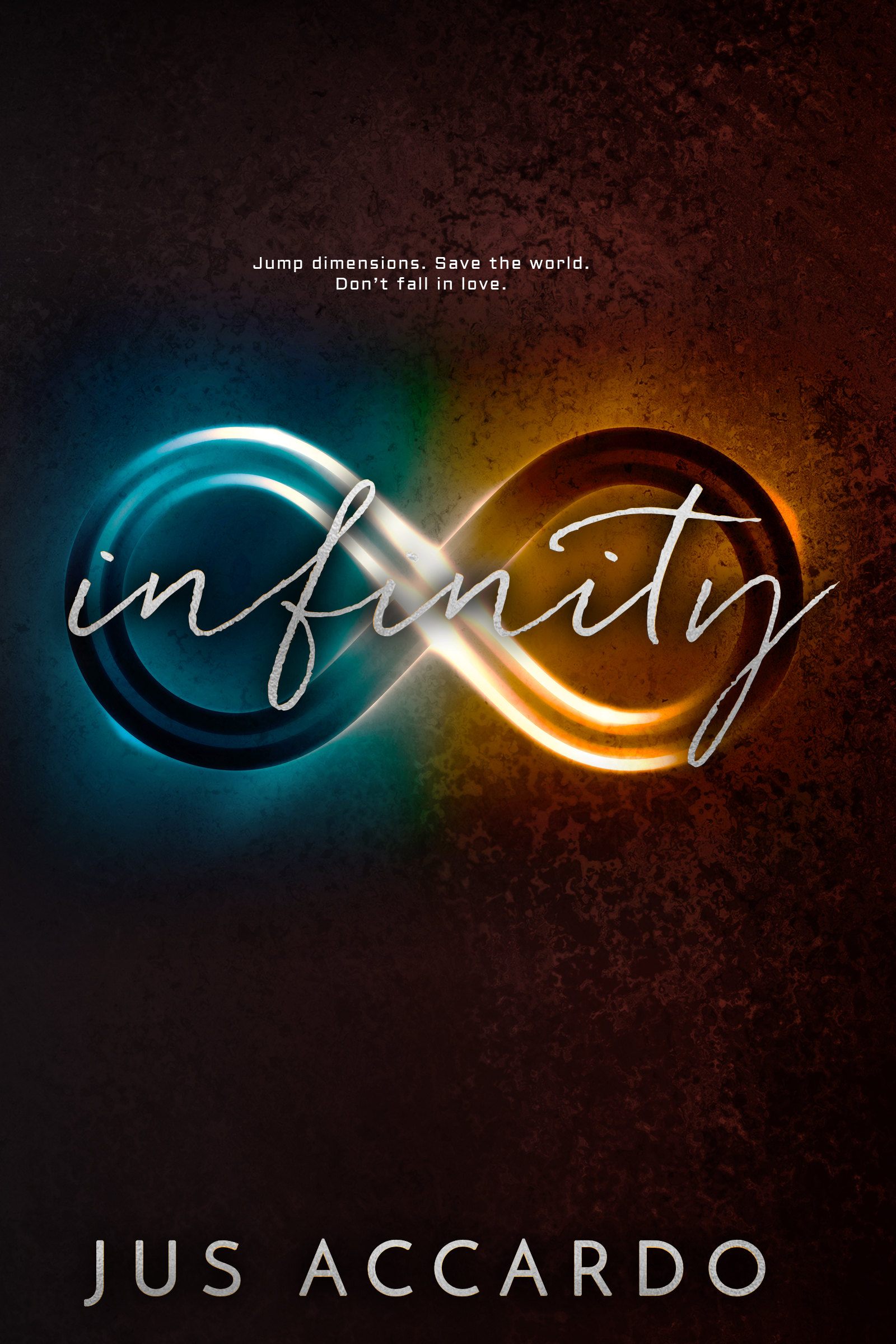 Jump dimensions. Find the bad guy. Don't fall in love.
Nobody said being the daughter of an army general was easy. But when her dad sends a teenage subordinate to babysit her while he's away? That's taking it a step too far.
Cade, as beautiful as he is deadly, watches Kori with more than just interest. He looks at her like he knows her very soul. And when he saves her from a seemingly random attack, well, that's when things get weird.
Turns out, Kori's dad isn't just an army general―he's the head of a secret government project that has invented a way to travel between parallel dimensions. Dimensions where there are infinite Koris, infinite Cades…and apparently, on every other Earth, they're madly in love.
Falling for a soldier is the last thing on Kori's mind. Especially when she finds herself in a deadly crossfire, and someone from another Earth is hell-bent on revenge…
Want to Read More? Pre-order Infinity (The Infinity Division, #1) Today!

Find Me Online:
Website | Twitter | Facebook | Pinterest | Goodreads' Author Page | Entangled Publishing Page
Enter to Win:
Save
Updates And Release Schedule
I've been getting a lot of emails lately concerning the Denazen series, so I wanted to give a quick update about what's been going on, and what's ahead. Confession time. 2013 was a bad year for me. I was violently ill and no one could figure out why. I spent more days in the hospital than out, and because of that, my work schedule suffered and I was forced to cancel all my conference appearances. In short, it pretty much sucked monkey ass. The good news is that they figured out what it was. The bad news was that it took a long time to fix. Turned out our house had a serious black mold problem. Our house was literally killing me. So we had to move, which as I'm sure most of you know, isn't something you just snap your fingers and make happen. It's stressful and time consuming and doesn't come cheap. But we did it. Sorted everything out and found an amazing place. Sadly it may have cost Oswald, my guard bear, but in exchange, I inherited a large herd of deer, a pack of dysfunctional coyotes, and more turkey and foxes than I can count. On top of all that, my Mom, who is the Klaire to my Jessie, is now battling cancer. She's set to start aggressive chemo in the next few weeks, and even though I know she's going to Monster Mash the shit out of this, we have a long road ahead.  Your thoughts and prayers are greatly appreciated. So, yeah. Things have been a little insane. But I haven't given up on Dez and Kale. I promise. I know some people are concerned because I seem to have moved on, but the thing is, I'm a fast writer. I love my job so much, that I find it hard to walk away sometimes. Writing is my escape. My sanity. The Denazen series was originally contracted as three books. Before book three was even written, I'd already finished Darker Days and Rules of Survival, as well as half of Ruined and rough drafts on several others. Dez and Kale are rooted deep in my heart. Although book 4 was written, I strongly feel like I need to take another look at it. To give you anything but what I believe to be the best would be unfair to you—and them. Because release dates are scheduled in advance, this is why the book will not be out in 2015. But, in the meantime, I've got some other characters—old and new—for you to hang with, and I'm very excited. Which brings us to the fun stuff! Here's a list of what's coming up. Just keep in mind that these dates are tentative and could shift slightly, as could some of the titles. Remember, as an author, I don't have control over dates and many things can affect the release of a book.  
Embrace (The Eternal Balance #2)

March/April 2015
Infinity (The Infinity Division)

September/October 2015
I can't tell you much except it's a Sci-Fi and has a badass female lead and not one swoony guy, but two (and not in the love triangle capacity, either).  
The Darker Truth (The Darker Agency #3)

Late 2015/Early 2016
Denazen #4

mid to late 2016
Blank Slate (A Six Nation Novel)

2016
A Denazen spin-off. It will be set in Dez and Kale's world, and although they may appear on page, the focus of the books will be other Sixes. I'm so excited to have the opportunity to expand this world and hope you'll come along for the ride!
Next Page »