The Latest from Patty
Omega Cover Reveal
The cover for Infinity was amazing. I didn't think Entangled could top it. The colors, the simplicity–it was all perfect. Then I got a peek at the cover for Omega…
Omega is set to release on August first THIS YEAR! I cannot wait to share this one. As some of you know, I'm just a tad crazy about Noah, one of the MCs of Omega. He was one of my favorite parts of Infinity. Fierce and complicated in all the best ways. I hope everyone enjoys spending time with him as much as I did.
One mistake can change everything. Ashlyn Calvert finds that out the hard way when a bad decision leads to the death of her best friend, Noah Anderson.
Only Noah isn't really gone. Thanks to his parents' company, the Infinity Division, there is a version of him skipping from one dimension to another, set on revenge for the death of his sister, Kori. When a chance encounter brings him face-to-face with Ash, he's determined to resist the magnetic pull he's felt for her time and time again. Because falling for Ash puts his mission—and their lives—in danger.
Website | Twitter | Facebook | Pinterest | Goodreads' Author Page | Entangled Publishing Page
Save
Save
INFINITY trailer
First, a huge thanks to everyone who has read and reviewed Infinity. You guys are awesome and I wish I could hug you all! I know people have been asking for the release date for the next book, but I don't have one yet. I imagine it will be sometime at the end of next year though. Book two will focus on Noah and… *whistles* someone else… 😉 Don't worry though. Cade and Kori will be right there with him and we will continue to see all the characters and their relationships bloom (or, in some cases, blow up).
Now for the fun stuff!
Guess what I get to share today? 😉
I love it! A huge thank you to Entangled Publishing for the awesome trailer <3
Want to Know More?

Find Me Online:
Twitter | Facebook | Pinterest | Goodreads' Author Page | Entangled Publishing Page
Release day for Infinity (plus #TeaserTuesday)
Today is the day! Infinity has been released into the world, and I'm feeling all the usual release day emotions.
ExcitedScaredWorriedGiddyTerrified…
Mostly though, I'm super happy. Infinity came to life during one of the hardest points in my life, so to see it out there, to hold a copy in my hands, is pretty freaking amazing. How about a Tuesday Teaser? 😉
You can follow all the Infinity Blog Tour stops and enter the release giveaway by checking out the schedule here
Two families. One Device. Infinite possibilities…

There are three things Kori Anderson knows for sure
One: Her army general father is way too overprotective
Two: The guy he sent to watch her, Cade, is way too hot
Three: Everything she knows about her life is a lie
Now for the three things she doesn't know
One: There's a device that allows people to jump to other dimensions
Two: Cade has a lethal secret
Three: Someone wants her dead

Find Me Online:
Twitter | Facebook | Pinterest | Goodreads' Author Page | Entangled Publishing Page
Infinity Cover Reveal (and giveaway)
I had some technical difficulties yesterday, so this is a day late. But, for those of you that didn't see it on twitter, I've got the cover and blurb for the first book in my new YA sci-fi series!
I have 9+ books with Entangled Publishing, and they've always blown me away when it comes to their covers. But this bad boy? I love it so hard—for so many reasons.
Infinity is a story of possibilities. Of hope. To me, Hope is something so simple—yet incredibly potent. When I first saw the cover, I thought, this is perfection. Simple, yet powerful. To me, it was meaningful.
Almost exactly a month before Infinity sold, my mother was diagnosed with stage 4 cancer. Treatment was rough, and very, very long, but she is currently cancer free and doing well. I remember one of her nurses had a tattoo. An intricate infinity symbol done almost like the staff of Asclepius. Underneath, it said, "Infinite hope." It became our thing. Infinite hope. We'd joke about finding the infinity symbol in everyday objects. Like Kori, the main character in the book, just seeing that symbol lifted our spirits. It gave us hope. I like to think that this was the Universe's round about way of telling us to keep on fighting.
I'm so excited to share this book with you guys!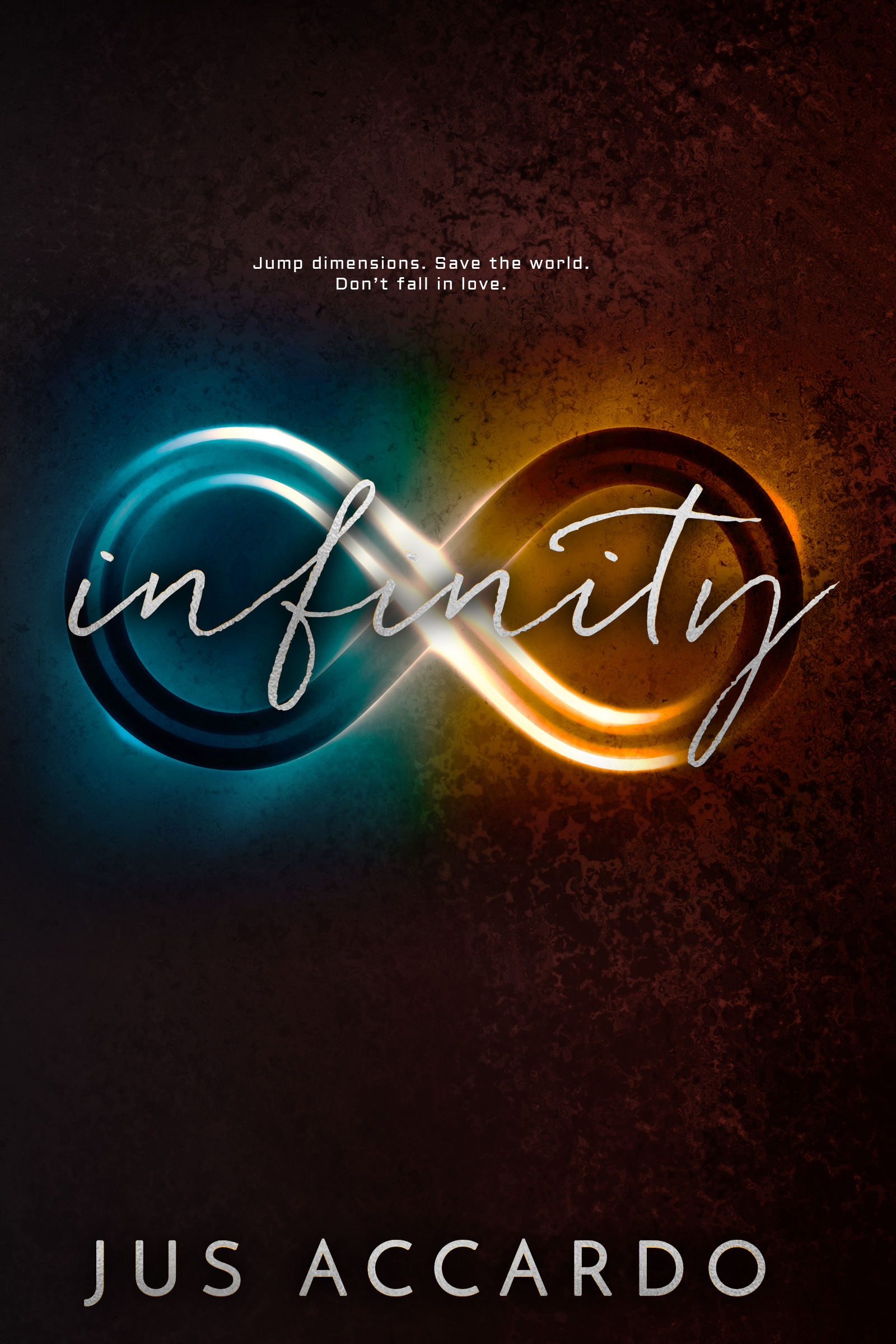 Jump dimensions. Find the bad guy. Don't fall in love.
Nobody said being the daughter of an army general was easy. But when her dad sends a teenage subordinate to babysit her while he's away? That's taking it a step too far.
Cade, as beautiful as he is deadly, watches Kori with more than just interest. He looks at her like he knows her very soul. And when he saves her from a seemingly random attack, well, that's when things get weird.
Turns out, Kori's dad isn't just an army general―he's the head of a secret government project that has invented a way to travel between parallel dimensions. Dimensions where there are infinite Koris, infinite Cades…and apparently, on every other Earth, they're madly in love.
Falling for a soldier is the last thing on Kori's mind. Especially when she finds herself in a deadly crossfire, and someone from another Earth is hell-bent on revenge…
Want to Read More? Pre-order Infinity (The Infinity Division, #1) Today!

Find Me Online:
Website | Twitter | Facebook | Pinterest | Goodreads' Author Page | Entangled Publishing Page
Enter to Win:
Save
Updates And Release Schedule
I've been getting a lot of emails lately concerning the Denazen series, so I wanted to give a quick update about what's been going on, and what's ahead. Confession time. 2013 was a bad year for me. I was violently ill and no one could figure out why. I spent more days in the hospital than out, and because of that, my work schedule suffered and I was forced to cancel all my conference appearances. In short, it pretty much sucked monkey ass. The good news is that they figured out what it was. The bad news was that it took a long time to fix. Turned out our house had a serious black mold problem. Our house was literally killing me. So we had to move, which as I'm sure most of you know, isn't something you just snap your fingers and make happen. It's stressful and time consuming and doesn't come cheap. But we did it. Sorted everything out and found an amazing place. Sadly it may have cost Oswald, my guard bear, but in exchange, I inherited a large herd of deer, a pack of dysfunctional coyotes, and more turkey and foxes than I can count. On top of all that, my Mom, who is the Klaire to my Jessie, is now battling cancer. She's set to start aggressive chemo in the next few weeks, and even though I know she's going to Monster Mash the shit out of this, we have a long road ahead.  Your thoughts and prayers are greatly appreciated. So, yeah. Things have been a little insane. But I haven't given up on Dez and Kale. I promise. I know some people are concerned because I seem to have moved on, but the thing is, I'm a fast writer. I love my job so much, that I find it hard to walk away sometimes. Writing is my escape. My sanity. The Denazen series was originally contracted as three books. Before book three was even written, I'd already finished Darker Days and Rules of Survival, as well as half of Ruined and rough drafts on several others. Dez and Kale are rooted deep in my heart. Although book 4 was written, I strongly feel like I need to take another look at it. To give you anything but what I believe to be the best would be unfair to you—and them. Because release dates are scheduled in advance, this is why the book will not be out in 2015. But, in the meantime, I've got some other characters—old and new—for you to hang with, and I'm very excited. Which brings us to the fun stuff! Here's a list of what's coming up. Just keep in mind that these dates are tentative and could shift slightly, as could some of the titles. Remember, as an author, I don't have control over dates and many things can affect the release of a book.  
Embrace (The Eternal Balance #2)

March/April 2015
Infinity (The Infinity Division)

September/October 2015
I can't tell you much except it's a Sci-Fi and has a badass female lead and not one swoony guy, but two (and not in the love triangle capacity, either).  
The Darker Truth (The Darker Agency #3)

Late 2015/Early 2016
Denazen #4

mid to late 2016
Blank Slate (A Six Nation Novel)

2016
A Denazen spin-off. It will be set in Dez and Kale's world, and although they may appear on page, the focus of the books will be other Sixes. I'm so excited to have the opportunity to expand this world and hope you'll come along for the ride!
Touch has sold!
This is the post that all authors dream about writing.  The one announcing that all their hard work and determination has finally paid off.  So without further fluff, I'm thrilled to announce that TOUCH has been picked up in a three book deal by Entangled Publishing for release in November 2011.
Whew.  I feel SO much better.  I've been sitting on that for a few days now.  It's a miracle my head didn't implode!
The idea for Touch born as I sat in a very long drive through line at Dunkin Donuts.  The book  was written last May during the Boot Camp event at Savvy Authors.  I was sitting in the chat room with Heather, Katy, Liz and Leslie, when Kale first tumbled down the embankment and landed at Dez's feet.
Thank you to my CP's, Heather Howland, Katy Upperman, and Ann Rought, who have not only been supportive, but encouraging in my quest to get Dez and Kale out into the world.  They pushed me when I needed to be pushed and listened when I needed to rant.
And a huge thank you to my awesome agent, Kevan Lyon, who believed in TOUCH (even on the days I didn't!).
TOUCH takes first place in YA in FF&P's OTFS Contest!
I'm happy to announce that TOUCH has placed first in FF&P's On the Far Side Contest in YA!  A huge congrats to all the other winners and a mountain of thanks to the coordinators and judges who took the time out of their hectic schedules.  I'm very excited and truly can't wait to introduce Dez and Kale to the world!
Touch takes First place in YA in Heartlands Show Me the Spark! contest
I'm giddy to announce that TOUCH has placed first in the YA category of Heartland's Show Me the Spark! contest.  Congrats to everyone who entered and a big thank you to the coordinators for doing such a fabulous job of keeping us informed as we waited for the results.
Touch Finals in FF&P's On the Far Side contest!
I'm very excited to announce that Touch, my YA paranormal romance, has finaled in FF&P's On the Far Side contest!  A huge congrats to all the finalists.
Touch finals in Heartlands Show me the Spark Contest!
Touch has finaled in The Heartland Romance Authors YA category of their Show me the Spark contest!  I'm so excited because this was my first real contest entry.  A huge congrats to the other finalists !